Interested in helping create a healthier community? Join the Chamber Worksite Wellness
Committee by emailing Kativa at the Chamber!
Thanks to Chamber members who contributed to Voluntary Workforce Attraction dues, the Worksite Wellness committee was able to offer new programs, plan another highly successful summer event, and begin planning some exciting new offerings for 2021.
Workplace Wellness Award
Has your workplace gone above and beyond in implementing health and well-being initiatives?  Help honor their achievements at the Chamber's Annual Meeting in early October by nominating them for the Workplace Wellness Award!
2020 Workplace Wellness Award Recipients
Smithfield & Curries
The Workplace Wellness Award reflects a partnership between the Chamber and CG Public Health and the application process is extensive. Two Mason City manufacturers went above and beyond customary health and wellness standards during COVID-19. We are pleased to recognize Smithfield Foods and Curries for their efforts.
Smithfield Foods has free and unlimited COVID testing on-site daily for all employees. Management rearranged production lines to accommodate physical distancing, and added physical barriers. The team distributed multiple bottles of hand sanitizer to each employee and a sanitation mandate occurs every 30 minutes.
Curries workplace wellness program is operated by a committee comprised of workers. It focuses on employee engagement activities such as blood drives, group walks, and more. They offer an on-site ARNP Clinic in partnership with Iowa Specialty Hospital. During COVID-19, the company dispatched more than 120 employees to work remotely, provided PPE, and established social distancing throughout the facility.
Congratulations to Smithfield Foods and Curries for going above and beyond to support employee well-being!
Videos of Past Recipients:
2019 - POET Biorefining - Hanlontown
2018 - Sukup Manufacturing
2017 - Metalcraft
2016 - North Iowa Area Community College
Virtual Learning: 5 Tips for Working Parents - full article
Keep a structure routine
Preparation is key
Leverage you support system
Be upfront with your manager
Take care of you, too
Information and resources from Mental Health First Aid:
If you or someone you care about feels overwhelmed with emotions like sadness, depression or anxiety, or like you want to harm yourself or others call 911.
You can also contact the Substance Abuse and Mental Health Services Administration's (SAMHSA) Disaster Distress Helpline at 800-985-5990, the National Suicide Prevention Lifeline at 800-273-8255 or text MHFA to 741741 to talk to a Crisis Text Line counselor.
Follow the Chamber's Pinterest page for Wellness Tips & Ideas.
More Wellness in North Iowa --
The Healthiest State Initiative, in partnership with the Iowa Department of Public Health, has launched a new opportunity for Iowa workplaces to support healthy choices for their employees. Employers of all sizes and representing all sectors are invited to sign up as a 5-2-1-0 Healthy Choices Count! Registered Workplace.
2017 Healthiest State Initiative Community Award Winner.
2018 Healthiest State Initiative Community Award Winner.
Like Healthy- Mason City on facebook for the most up-to-date wellness initiatives in our community.
Mason City Bike Trails:
Mason City Walking Route Maps:
- Elmwood St. Joseph Cemetery Nature Walk
- Elmwood St. Joseph Cemetery Spiritual Walk
- Elmwood St. Joseph Cemetery Historical Walk
- Sculpture Walk
- Borealis Walking Route
- Central Park Walking Route
- Footbridge Walking Route
- Landscape Walking Route
- Prairie House Walking Route
- Stockman House Walking Route
- Central Park to Footbridge Walking Route
- Central Park to Rock Glen Walking Route
- Central Park Long Loop Walking Route
- The Loop Walking Route
- Norris Park Walking Route
- Soutbridge and Downtown Walking Route
Designated 5-2-1-0 Work-Site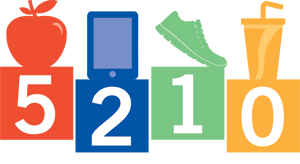 The Mason City Chamber of Commerce is proud to be a Designated 5-2-1-0!
The work site pledge provides resources, expertise, and collateral to help complete the pledge items along with detailed information on the research behind each pledge action item.  We encourage your work site to join the movement and become a designated work site.
Throughout the designation, the Chamber has implemented several wellness-related items. Offering personality assessments to employees, creating walking routes throughout the Commerce Center, micro walking breaks, and a step tracking program.